Motion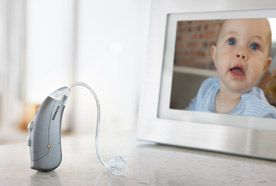 Superb sound meets outstanding comfort.
Motion offers full connectivity and is the comfortable solution for virtually any ear, any age and any hearing loss.
Enquire About This Product
Features & Benefits
Live your life with ease: It's good to know there's a hearing instrument that lets you treasure every moment. Because Motion™'s amazing clarity and comfortable fit combine to help you focus on what's important. Motion takes its cues from you. Thanks to its advanced technology, it's fully automatic, learning to adjust itself to your needs and hearing preferences over time. And if you want to manually change the volume or switch programs, intuitive onboard controls make it easy to enjoy the sound of life.
Motion is available in four models for virtually any ear, any age and any hearing loss:
Motion SX+PX are conveniently rechargeable for hassle-free handling
Motion M+P feature direct audio input via optional audio shoe
e2e wireless 2.0 allows for synchronization between instruments connection to electronic devices including those with Bluetooth® wireless technology
Intuitive onboard controls
Superior nanocoating protects from corrosion and water damage
Tinnitus noiser manages tinnitus and improves hearing at the same time