Siemens Life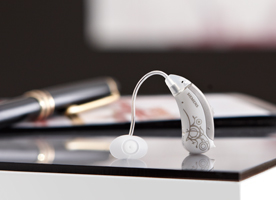 Your small work of art that's big on style.
Siemens Life is discreet enough to hide and stylish enough to win admiring glances.
Enquire About This Product
Features & Benefits
Whether it's a passing comment or detailed discussion, you don't have to miss a thing. Siemens Life combines outstanding sound quality and refined comfort with simple operation – the perfect complement for demanding lifestyles. It fits comfortably in the ear and, with no hard or sensitive parts, is suitable for all wearers. Its tiny form sits almost unnoticeably behind the ear. Incredibly small, big on style, Siemens Life is designed to fit you and your life with complete ease.
Enjoy star performance:
Incredibly small and ergonomic design.
Flexible and transparent LifeTubes and LifeTips fit comfortably in the ear.
Wireless connectivity for discreet control and connection to audio devices.
Open fitting concept eliminates the occlusion effect – the unpleasant sensation you feel with blocked ears.
12 exchangeable colors made to blend in.
Features the newest version of BestSound™ Technology.