Enzo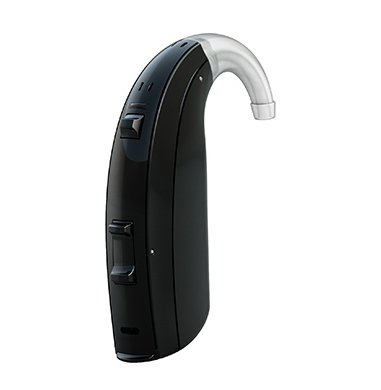 ReSound ENZO™ lets you bring smart hearing technology to your clients with severe and profound hearing loss for the first time.
Enquire About This Product
Explore our Styles & Colours
Features & Benefits
Dirct connectivity
Superior sound quality and audibility
Intuitive personalization
Slim, comfortable and highly durable
SmartRange platform
2.4 GHz wireless technology
2.4 GHz Ear-to-Ear communication
Direct audio streaming to iPhone, iPad and iPod touch
Direct audio streaming from ReSound Unite accessories
Bluetooth 4.0
Surround Sound by ReSound
Audiology
Sound Shaper
Binaural Directionality
Binaural Environmental Optimizer II
DFS Ultra II
Direct connectivity
Your clients can stream stereo sound directly from iPhone, iPad and iPod touch, without any intermediary device.
Superior sound quality and audibility
Surround Sound by ReSound™ signal processing mimics the auditory system improving audibility, speech understanding and sound quality.
Music Enjoyment
Music lovers and musicians are often disappointed with the sound of music through their hearing instruments ─ particularly, at concerts.
Intuitive personalization
The ReSound Smart app gives your clients smart new ways to personalize your hearing experience.
Slim, comfortable and highly durable
ReSound ENZO is the smallest BTE with a 675-battery. Protected against moisture inside and out with industry leading nanotechnology.
Surround Sound by ReSound
Our unique sound processing strategy processes sound in a way that emulates the natural characteristics of the human auditory system.
Audiology
Watch how advanced features in Surround Sound by ReSound are applied to help a person with severe-to-profound hearing loss hear better.
Sound Shaper
High-frequency sounds that are not audible due to high-frequency losses or cochlear dead regions are moved down in the frequency spectrum.
Binaural Directionah4ty
The hearing instruments exchange data and work together to dynamically select the best directional response for any listening environment.
Binaural Environmental Optimizer II
The hearing instruments work together to analyze and accurately classify the listening environment, automatically adjusting gain and noise reduction settings.
DFS Ultra II
ReSound ENZO provides the highest stable gain level in the industry*, giving your clients improved speech audibility without their hearing aids whistling.
Accessories
Phone Clip+
Be your own sound captain with our remote control and manipulate your hearing instruments' functions to your gusto.
Remote Control 2
With the ReSound Unite Remote Control 2 your customer will be more likely to use the best-suited program for a given situation.
Tv Adapter 2
The ReSound Unite™ TV Streamer 2 transforms hearing aids into wireless headphones. It sends stereo sound directly from the TV, stereo or computer directly into hearing aids from up to seven meters away.
Mini Microphone
The ReSound Unite™ Mini Microphone gives your customers an extra boost when they need to hear a voice in difficult listening environments involving distance, reverberation or background noise.