Dream Fashion Power BTE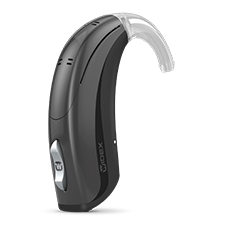 DREAM is our latest hearing aid for those who demand the best. In even the most complex listening situations like a family dinner, DREAM is the best choice. It is also perfect for letting you focus on speech in noise.
Enquire About This Product
Explore our Styles & Colours
Features & Benefits
Comfort for sudden sounds is preserved
Natural focus on speech from the front and back
Speech enhancement for the dominant voice in a crowd
Enhanced identification and cancellation of feedback
Warning signals when connection is lost
Excellent performance when talking on the phone, listening to music or watching TV
Up to 5 programs available
More detailed sound
With DREAM, it's the details that count. You get a much richer and well-rounded sound so you can experience the whole world around you.
More words and clearer speech
hanks to new technology that preserves the human voice, you can actively enjoy conversations. So from a crowded restaurant to a noisy concert, DREAM helps you follow the conversation, not the noise.
Your own website
DREAM gives you access to your own website that contains all information unique to your specific type of hearing aid and hearing loss. This site Includes information about your personal audiogram, programs and features, tips and advice for handling your specific hearing aid model, instructional videos and testimonials from other hearing aid users.
Manage your tinnitus
DREAM features Personal Zen – a relaxing tone program that has been proven to help in tinnitus management. It can be customised by your hearing care professional to suit your needs.
Hear high-frequency sounds
With DREAM, high-pitched sounds like birdsong or speech are automatically moved down to regions where you can hear them clearly.
Enjoy TV, music or h4stening to your mobile
DREAM can be easily combined with our DEX assistive listening devices, so you can enjoy watching echo-free television, listening to music or using your mobile phone – all completely wirelessly.
More battery h4fetime
New power-saving technology in DREAM gives you around 20 percent more battery lifetime, even when streaming.
A hearing aid model for everyone
DREAM is available in two in-the-ear models and five behind-the-ear models – including the new DREAM FASHION. Your hearing care professional can help you choose the perfect hearing aid model for your specific hearing loss.
Accessories
Phone Clip+
Remote controls for hearing aids make it possible to wirelessly control your hearing aids from your pocket. Called the RC-DEX, the Widex remote control is small enough to fit on a keychain and has three simple keys.