Phonak Bolero V30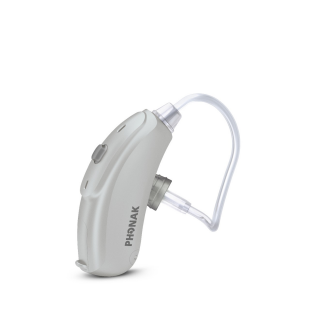 Phonak Bolero V30 is the essential product line, of the comprehensive BTE portfolio for mild to profound hearing losses. Powered by the innovative technology of the Phonak Venture platform, Phonak Bolero V hearing aids are the ideal solution for those clients that prefer best hearing performance in water resistant high-tech BTE housings. 
Enquire About This Product
Explore our Styles & Colours
Features & Benefits
Calm Situation
Speech in Noise
Up to 3 additional programs
3 Streaming programs
Sound recover
User Preference Tuning
8 Finetuning Channels
Whistle Block
Noise Block
QuickSync
AOV
Tinnitus Balance
auto Acclimatization
AutoSense OS - Automatically adapt to more of your listening situations than ever before.
Tinnitus Balance noise generator - Provides a means of sound enrichment which can be used as part of a tinnitus management program.
Wireless Accessories
Phonak Bolero V is compatible with the Phonak Wireless Communication Portfolio.
Phonak EasyCall II
The Phonak EasyCall connects hearing aids wirelessly with any Bluetooth enabled cell phone. It binaurally streams the phone call directly to the hearing aids for maximum speech understanding.
Phonak DECT II
The Phonak DECT II is the ideal phone for use both at home or in a small office. The phone signal is streamed wirelessly to both hearing aids simultaneously. This provides unmatched sound quality and great understanding.
Phonak Conversation Set
The small and stylish Phonak ComPilot Air II Bluetooth streamer, combined with the RemoteMic, transmits a distant speaker's voice directly to both hearing aids over a distance of up to 20 meters (66 ft).
Phonak Entertainment Set
TVLink II, combined with ComPilot II provides high quality stereo sound directly to both hearing aids when watching TV or listening to music. 24 hours continuous streaming time and 30 meters range.